On Thursday, June 16, 2022, Heritage opened their Comics & Comic Art Signature Auction with a total of $11 million in sales in the first session. As expected, the opening day star was Frank Miller and Lynn Varley's original cover for Batman: The Dark Knight Returns Book One, which sold for $2.4 million.
Reflecting the interior content of the groundbreaking series, The Dark Knight Returns Book One cover is a striking image of a silhouetted Batman illuminated by a white hot bolt of lightning. The sale set the record for most expensive mainstream American comic cover sold at auction.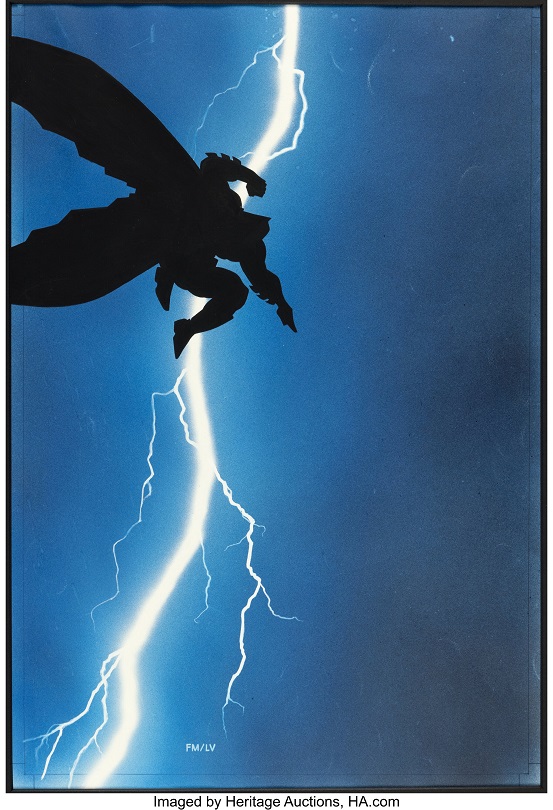 "We're thrilled to see Frank Miller and Lynn Varley's influential work reach a level often associated with classic American art," Heritage Vice President Todd Hignite said. "It deserves that, as this is easily one of the most famous comic book covers from any era, and it defined the superhero genre from the 1980s to this very moment. I can't think of a more important piece of comic art to have ever come to auction."
"It's always an exciting day when you can offer one of the most iconic works of American comic art, and then it becomes a record-setter," Heritage Vice President Barry Sandoval exclusively told Scoop. "Frank Miller and Lynn Varley's cover to Batman: The Dark Knight Returns Book One isn't just one of the great comic covers, but a defining work of American art in the 20th century, which is reflected in its final price."
Another member of DC's trinity landed not far behind Batman's achievement. The high grade All Star Comics #8 CGC 9.4 which features the first appearance of Wonder Woman hammered for $1.62 million. This is the first time that Wonder Woman's debut has eclipsed the million dollar mark.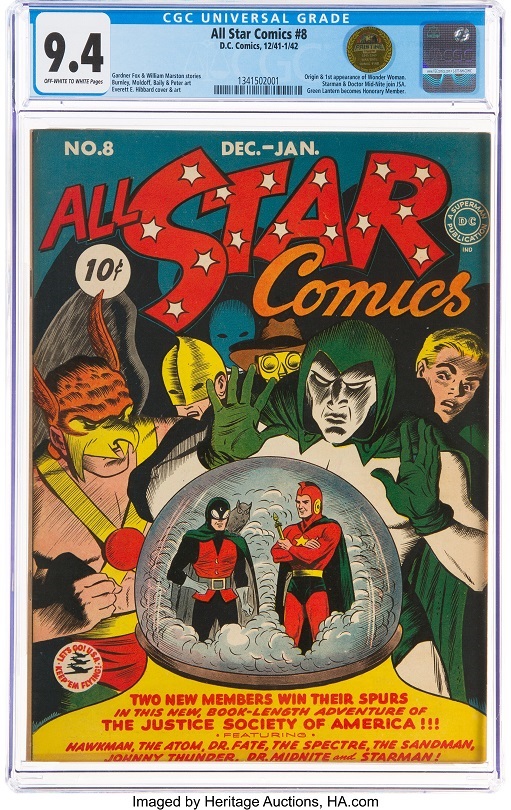 The record for a 21st century comic sale was set by Marvel when The Amazing Spider-Man #677 CGC 9.8 with Gabrielle Dell'Otto's variant cover art brought $43,200. Published just 11 years ago in 2011, Dell'Otto's cover appeared on only 200-500 copies of the book.
The Caped Crusader had multiple other high sales, like Jim Lee's triple gatefold variant cover for Batman #619 that reached $504,000, making it the highest price paid for Lee art in an auction. The cover wrapped the 12-part "Hush" epic that resurrected Jason Todd and established the romantic relationship between Bruce Wayne and Selina Kyle.
Two of the auction's major sales came from the famous Batman #438 story "A Death in the Family." It is well known in comic circles not just for killing Jason Todd/Robin, but for how it happened. For the story, DC put Jason's fate in the hands of readers by providing a (900) number that they could call to cast a vote to save him or let him die. Mike Mignola's Batman #438 original cover art that shows the battered and dying Robin realized $228,000. Jim Aparo and Mike DeCarlo's entire 22-page story for that famous issue went for $288,000.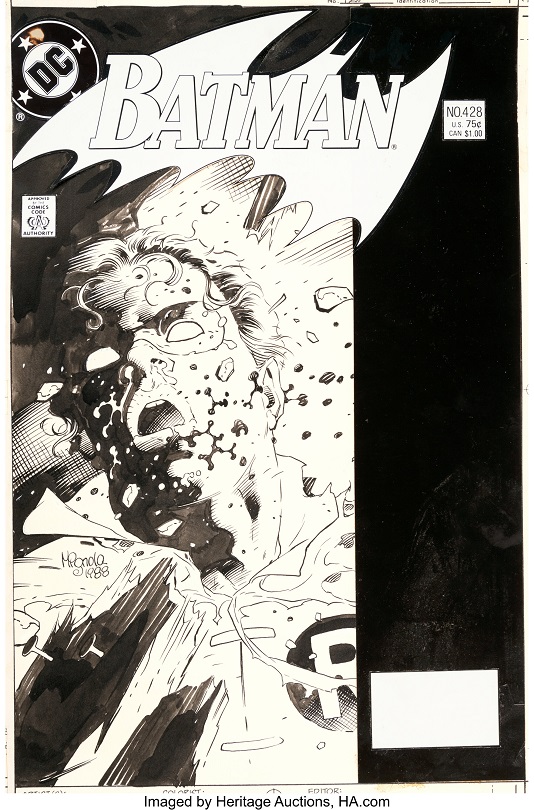 Rounding out the big Batman sales was Bob Kane and Jerry Robinson's Detective Comics #59 original cover featuring Batman and Robin that went for $180,000.
Back to Spidey, Todd McFarlane's original cover of Spider-Man #16 drew a final price of $408,000. This piece hails from McFarlane's final book for Marvel and included a guest appearance by X-Force. Individual story pages from that issue were sold in 19 lots, bringing in a combined $904,800.
Two other big Marvel sales were Don Heck's Tales of Suspense #39 story page 13, the final page from Iron Man's debut, that sold for $216,000, and Bill Everett's Daredevil #1 page 5 original art that grabbed $204,000.
Recent Posts
With his horned helmet and obscured facial features, the axe-carrying, armor-clad warrior sits ato …

Iron Man, Thor, Giant Man, and The Wasp square off against Namor the Sub-Mariner and the Incredibl …

Like clay in the hands of a master sculptor is the almost-forgotten Golden Age hero Black Out in t …