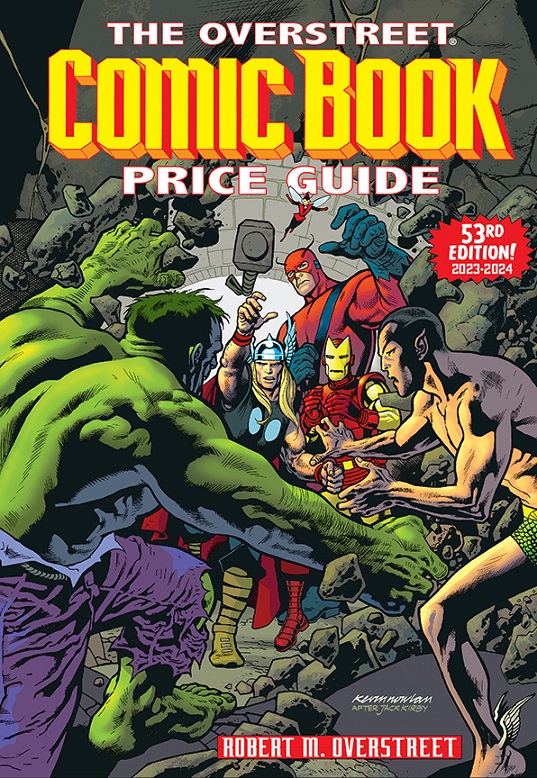 Iron Man, Thor, Giant Man, and The Wasp square off against Namor the Sub-Mariner and the Incredible Hulk as celebrated artist Kevin Nowlan offers an imaginative new take on Jack Kirby's classic image from The Avengers #3 for the cover of The Overstreet Comic Book Price Guide #53.
Scheduled to appear in the April PREVIEWS from Diamond Comic Distributors and hit comic shops on Wednesday, July 19, 2023, this cover will be available in both hardcover ($44.95) and soft cover ($34.95) formats. The hardcover will be PREVIEWS exclusive and only offered in comic shops, while the soft cover will also be available in traditional bookstores.
This cover marks Nowlan's second Overstreet cover. He previously reinterpreted Marvel Feature #1, the first appearance of The Defenders, for the Hero Initiative exclusive edition of The Overstreet Comic Book Price Guide #50. It was a hit for the 501(c)(3) charity.
"As soon as we saw Kevin's beautiful cover for CBPG #50, we knew we wanted to work with him again and get him on one of the covers with a wider release. There is something, well, incredible about how he illustrated and colored the Hulk, so that made suggesting this Avengers cover a snap," said J.C. Vaughn, Vice-President of Publishing for Gemstone Publishing. "And as much as we thought we knew what to expect this time, he blew us away once more."
"I obviously had a lot of fun drawing a new version of The Avengers #3 cover for this year's edition of The Overstreet Comic Book Price Guide. Jack Kirby's covers were always solidly constructed so I only departed a little from his basic layout. They don't call him 'The King' for nothing! On the other hand, I felt obligated to contribute something, so I tried to play up the shadows and lighting effects. I also moved the camera back a bit so we can see more of the Hulk and Subby as well as fill up more of the vertical space. We thought the Wasp should be included since she was a member of the Avengers at that time, so we squeezed her in over Giant-Man," Nowlan said. "This piece was just a joy and an honor to draw. I hope you folks like it as well!"
Nowlan was already on a roster of incredible talent more than five decades deep including such contributors as Joe Kubert, Will Eisner, Carl Barks, Wally Wood, C.C. Beck, Joe Simon, Mark Chiarello, Darwyn Cooke, Adam Hughes, Dan Jurgens, J. Scott Campbell, Greg Land, Cary Nord, Jim Steranko, Rob Liefeld, Ethan Van Sciver, Howard Chaykin, Ryan Sook, Alan Davis, Tony Daniel, Todd McFarlane, Denys Cowan, and Butch Guice, among others. Now he joins an even more exclusive group of those artists who have done two or more Guide covers, including Don Newton, Alex Schomburg, L.B. Cole, Murphy Anderson, Carmine Infantino, John Romita, Sr., John Romita, Jr., Alex Ross, John K. Snyder III, George Pérez, Mark Sparacio, Amanda Conner, Joe Jusko, Walter Simonson, J.G. Jones, and Billy Tucci.
This edition of the Guide celebrates the 60th anniversaries of The Avengers and the storied Justice League of America/Justice Society of America crossovers. It also includes a look at the influential advertising comics of the pioneering R.F. Outcault, creator of The Yellow Kid and Buster Brown.
The Bible of serious comic book collectors, dealers, and historians since it was first published in 1970, The Overstreet Comic Book Price Guide is released each July by Gemstone Publishing. Compiled by founder Robert M. Overstreet with contributions from an extensive roster of Overstreet Advisors, the Guide offers insight into the complex and exciting comic book market.
Gemstone Publishing recently announced that artist David Michael Beck has provided the cover for the limited edition, oversized version of the Guide, The Big, Big Overstreet Comic Book Price Guide #53, which will also go on sale Wednesday, July 19, exclusively in comic shops. It will be followed in September by The Overstreet Guide To Collecting Comics, a prose/comics hybrid showcasing many different aspects of collecting, and in March 2024 by The Overstreet Comic Book Price Guide To Lost Universes #2. Gemstone's schedule for 2023 kicks off with The Overstreet Guide To Collecting Comics – Free Comic Book Day 2023 Edition, a special 48-page comic about collecting comics.
Recent Posts
With his horned helmet and obscured facial features, the axe-carrying, armor-clad warrior sits ato …

Iron Man, Thor, Giant Man, and The Wasp square off against Namor the Sub-Mariner and the Incredibl …

Like clay in the hands of a master sculptor is the almost-forgotten Golden Age hero Black Out in t …