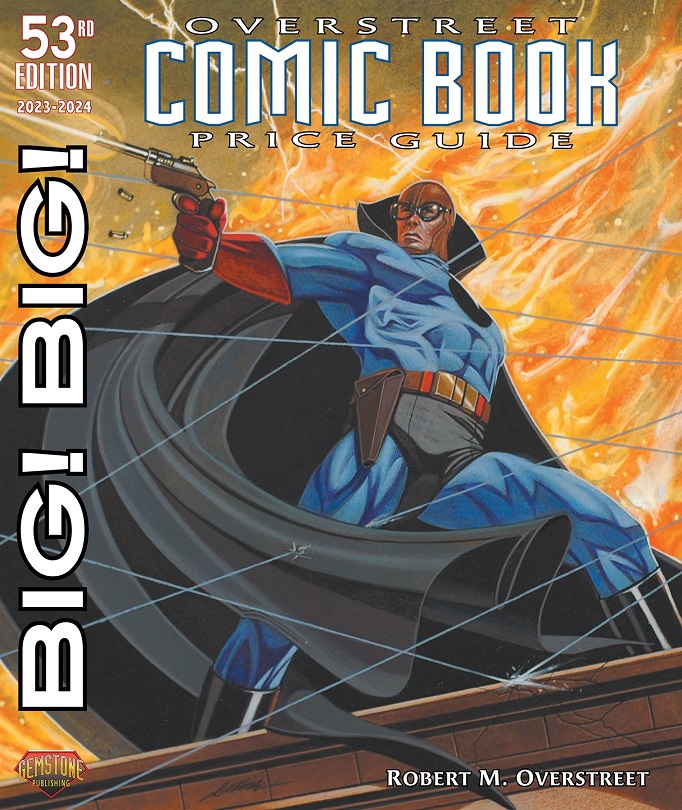 Like clay in the hands of a master sculptor is the almost-forgotten Golden Age hero Black Out in the hands of artist David Michael Beck, who breathed dynamic new life into the character for the cover of The Big, Big Overstreet Comic Book Price Guide #53.
Each year, the BBCBPG seems to sell through quicker than the previous year. This square bound, oversized, limited edition version of The Overstreet Comic Book Price Guide #53 will be available in soft cover and will carry a cover price of $59.95. It will be featured in the April edition of PREVIEWS from Diamond Comic Distributors and is scheduled to go on sale on Wednesday, July 19, 2023 exclusively in comic shops.
The Bible of serious comic book collectors, dealers, and historians since it was first published in 1970, The Overstreet Comic Book Price Guide is released each July by Gemstone Publishing. The Big, Big version (BBCBPG) includes none of the articles or advertising and just focuses on the price listings in the Guide. It's become a regular purchase for dealers and serious collectors.
A veteran illustrator known for work in fine art, advertising, and comics such as Star Wars, Lady Death, G.I. Joe, and Jonah Hex, Beck began his studies at The American Academy of Art and The Chicago Academy of Fine Art. Over the years, he has received numerous awards in regional and national competitions and his work is included in many diverse collections and publications such as the Society of Illustrators, Communication Arts, Artist, Print, Sketch, and the World Science Fiction Fair and the American Italian Museum. He has taught and has presented guest lectures and workshops through Syracuse University, Dallas Community College, The College of Medical Illustration, The Cincinnati Art Institute, and The Cleveland Art Institute. He presently serves as an adjunct professor of illustration at The Art Academy of Cincinnati.
"I was thrilled when my great friend, Gemstone's J.C. Vaughn, called me to do a cover for The Overstreet Comic Book Price Guide. He wanted me to explore working with a comic character from the Golden Age, preferably one I had not heard of before. In my research I discovered Black Out, a true American patriot who indulged in the fine art of kicking serious Nazi-ass. Black Out wore this cool uniform, WWI airman style, kind of like the Blackhawks, but with a cape, and an unusual pistol design which I researched. Growing up, the barber shop was a library for me to read comics and men's magazines, the stuff I could not buy in town or my mom forbade me from. I got a lot of haircuts when I was a lad. The old characters of the past were always campy, crazy, and great fun to read, and study the artwork from," David Michael Beck said.
"I've been a fan of David Michael Beck's work since the first time I saw it. Once I got to know him, I got to appreciate his approach, the thought he puts into each of his works, and the execution of the final piece. On top of that, his sheer professionalism is a joy to experience," said J.C. Vaughn, Vice-President of Publishing for Gemstone Publishing. "And just look at ther results!"
Since the oversized, limited edition Big, Big returned with BBCBPG #42, its cover artists have included Lewis LaRosa, Will Conrad, Francesco Francavilla, Kevin Eastman, Joe Corroney, Billy Tucci, Georges Jeanty, Buzz, and Rick Burchett. Through its more than five decades, The Overstreet Comic Book Price Guide's covers have included contributions by Joe Kubert, Will Eisner, Carl Barks, Wally Wood, Alex Schomburg, C.C. Beck, Murphy Anderson, Carmine Infantino, George Pérez, Mark Chiarello, Darwyn Cooke, Amanda Conner, Tony Daniel, and Todd McFarlane, among others.
It's important to reiterate that the Big, Big edition contains none of the articles or the ads found in the standard editions of the Guide. It contains only the pricing information and charts.
The Big, Big Overstreet Comic Book Price Guide #53 will go on sale Wednesday, July 19, exclusively in comic shops. It will be accompanied by the standard editions of the Guide, the cover artists of which will be announced in coming days. It will be followed in September by The Overstreet Guide To Collecting Comics, a prose/comics hybrid showcasing many different aspects of collecting, and in March 2024 by The Overstreet Comic Book Price Guide To Lost Universes #2. Gemstone's schedule for 2023 kicks off with The Overstreet Guide To Collecting Comics – Free Comic Book Day 2023 Edition, a special 48-page comic about collecting comics.
Recent Posts
With his horned helmet and obscured facial features, the axe-carrying, armor-clad warrior sits ato …

Iron Man, Thor, Giant Man, and The Wasp square off against Namor the Sub-Mariner and the Incredibl …

Like clay in the hands of a master sculptor is the almost-forgotten Golden Age hero Black Out in t …