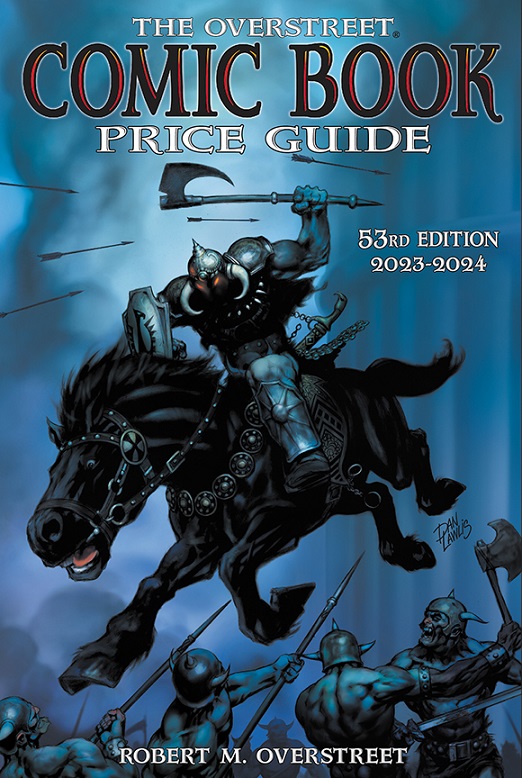 With his horned helmet and obscured facial features, the axe-carrying, armor-clad warrior sits atop a horse and permanently looks ready for battle, evoking whole stories from a single image: Frank Frazetta's Death Dealer. Now artist Dan Lawlis has brought the Death Dealer to the cover of The Overstreet Comic Book Price Guide #53.
This edition is set to appear in the April PREVIEWS from Diamond Comic Distributors and hit comic shops on Wednesday, July 19, 2023. Both the hardcover ($44.95) and soft cover ($34.95) versions of this cover will be PREVIEWS Exclusive and only offered in comic shops.
In comics, Lawlis has illustrated for a number of publishers, including Marvel and Dark Horse, among others. His work includes Strange Tales, Avengers Spotlight, Dr. Strange, Sorcerer Supreme, The Mutant Misadventures of Cloak and Dagger, Shadowmasters, Star-Lord, Midnight Sons, Barb Wire, Agents of Law, and Kent Menace. He's recently also served as a cover artist for Wraith of God: Blood Hunters, Kor-Drath, and Giant-Size Two-Fisted Manly Tales.
The character of the Death Dealer first appeared Frazetta's 1973 painting of the same name. The popularity of the piece spawned additional paintings of the character by the artist. In addition to the paintings, the Death Dealer's familiar image has appeared on comic books, novels, statues, action figures, D&D miniatures, and the cover to Molly Hatchet's debut album. The US Army's III Corps uses the character as its mascot, as does the US Marine Corps VNM-164 helicopter squadron.
"I'm one of those artists who was born and bred studying Frazetta, so to get an opportunity to take on the quintessential Frazetta character, Death Dealer, is really a dream come true! Not only that, but to see my image on the cover of The Overstreet Comic Book Price Guide, allowing it to be in the company of so many legendary artists, that is truly a wonderful gift to receive!" Dan Lawlis said.
Don Newton, Joe Kubert, Will Eisner, Carl Barks, Bill Ward, Wally Wood, and Alex Schomburg top the deep roster of artistic talent that Lawlis now joins as an Overstreet cover artist. Alex Ross, Mark Chiarello, Darwyn Cooke, Tony Daniel, Adam Hughes, J. Scott Campbell, Greg Land, Cary Nord, Jim Steranko, and Rob Liefeld are among the many other luminaries who have created Guide covers.
This edition of the Guide celebrates the 60th anniversaries of The Avengers and the storied Justice League of America/Justice Society of America crossovers. It also includes a look at the influential advertising comics of the pioneering R.F. Outcault, creator of The Yellow Kid and Buster Brown.
The Bible of serious comic book collectors, dealers, and historians since it was first published in 1970, The Overstreet Comic Book Price Guide is released each July by Gemstone Publishing. Compiled by founder Robert M. Overstreet with contributions from an extensive roster of Overstreet Advisors, the Guide offers insight into the complex and exciting comic book market.
Gemstone Publishing recently announced that Kevin Nowlan has reinterpreted Jack Kirby's classic cover from The Avengers #3 to serve as another cover for The Overstreet Comic Book Price Guide #53, and David Michael Beck has provided the cover for the limited edition, oversized version of the Guide, The Big, Big Overstreet Comic Book Price Guide #53. All three versions will go on sale Wednesday, July 19 in comic shops. The Guide will be followed in September by The Overstreet Guide To Collecting Comics, a prose/comics hybrid showcasing many different aspects of collecting, and in March 2024 by The Overstreet Comic Book Price Guide To Lost Universes #2. Gemstone's schedule for 2023 kicks off with The Overstreet Guide To Collecting Comics – Free Comic Book Day 2023 Edition, a special 48-page comic about collecting comics.
Recent Posts
With his horned helmet and obscured facial features, the axe-carrying, armor-clad warrior sits ato …

Iron Man, Thor, Giant Man, and The Wasp square off against Namor the Sub-Mariner and the Incredibl …

Like clay in the hands of a master sculptor is the almost-forgotten Golden Age hero Black Out in t …