Butch Guice, who served two stints as artist on The Winter Soldier for Marvel, returns to the character for The Overstreet Comic Book Price Guide #52. Due in comic shops on July 20, 2022, this edition will be featured in the April PREVIEWS from Diamond Comic Distributors and can be seen in a teaser on Page 303 in the February PREVIEWS, now on sale.
This edition of The Overstreet Comic Book Price Guide #52 will be available in both hardcover and soft cover formats. The hardcover version will be exclusive to comic shops.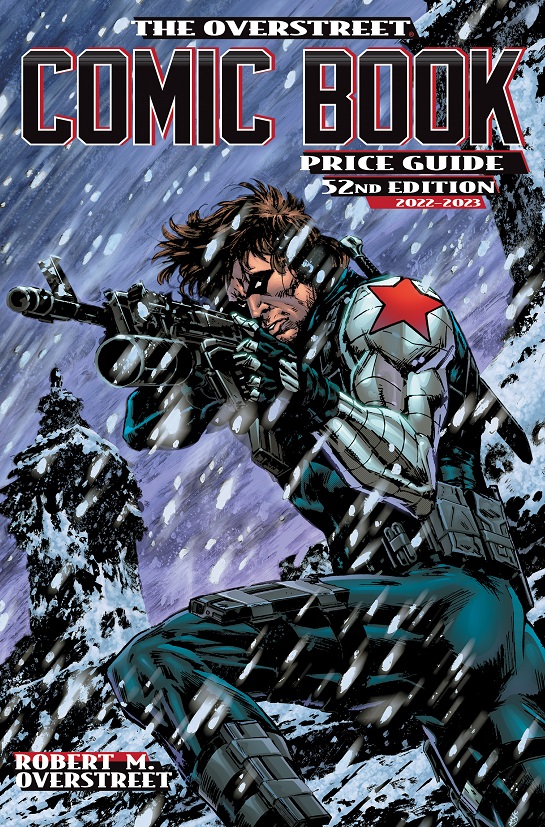 Since making a splash in the early 1980s with his work on Micronauts, Guice has distinguished himself with a varied career in which his projects had only his solid, dynamic storytelling in common. From the adaption of Indiana Jones and the Temple of Doom to Doctor Strange, and from Resurrection Man to Winterworld, he has brought measures of beauty, grit, and no small portion of action to the page. Also known for his work on X-Factor, New Mutants, Flash, Ruse, Nick Fury, Agent of SHIELD, and Birds of Prey, he was one of the architects of the best-selling "Death of Superman" event.
"When I was a kid collecting comics back in the 1970s, I somehow got my hands on an early edition of The Overstreet Comic Book Price Guide. I didn't have a big collection, and most of my comics were so well read that the average condition was Fair at best, but I was comic crazy and would thumb through that copy endlessly looking at all the comics from years and decades earlier and daydream about drawing comics myself someday. However, never in any of my youthful fantasies did I ever imagine I would someday illustrate a Guide cover myself," Butch Guice said.
Guice joins a Guide roster more than five decades deep including such contributors as Joe Kubert, Will Eisner, Carl Barks, Wally Wood, Alex Schomburg, C.C. Beck, Murphy Anderson, Joe Simon, George Pérez, Mark Chiarello, Darwyn Cooke, Amanda Conner, Walter Simonson, Adam Hughes, J. Scott Campbell, Ryan Sook, and Todd McFarlane, among others.
"I've been a fan of Butch Guice's work since his days on Micronauts, but it was really his snowy scenes in The Winter Soldier and in Winterworld that we hoped he'd capture in his Overstreet cover. Clearly, he did not disappoint!" said J.C. Vaughn, Vice-President of Publishing for Gemstone Publishing. "We loved working with him so much that he's done covers for three different projects for us."
The Bible of serious comic book collectors, dealers, and historians since it was first published in 1970, The Overstreet Comic Book Price Guide is released each July by Gemstone Publishing. Compiled by founder Robert M. Overstreet with contributions from an extensive roster of Overstreet Advisors, the Guide offers insight into the complex and exciting comic book market. In addition to new prices, this edition includes new feature articles, new additions to the Overstreet Hall of Fame, and dozens of new market reports.
When it arrives, CBPG #52 will join a strong line-up of books due out this year from Gemstone Publishing. The Overstreet Comic Book Price Guide To Lost Universes #1, a brand new price guide/Photo-Journal hybrid, is set to debut on Wednesday, February 16. The Guide will also be preceded by The Overstreet Guide To Collecting Comics – Free Comic Book Day 2022 Edition, a special 48-page comic about collecting comics, which will arrive on Saturday, May 7, Free Comic Book Day. Following the Guide, due out October 26, will be the full book-length second edition of The Overstreet Guide To Collecting Comics, a prose/comics hybrid showcasing many different aspects of collecting.
"2022 is going to be a very exciting, defining year for the Guide," Vaughn said, "and we're particularly pleased to kick it off with such an exciting announcement. There are more announcements to come as well."
Recent Posts
With his horned helmet and obscured facial features, the axe-carrying, armor-clad warrior sits ato …

Iron Man, Thor, Giant Man, and The Wasp square off against Namor the Sub-Mariner and the Incredibl …

Like clay in the hands of a master sculptor is the almost-forgotten Golden Age hero Black Out in t …