On July 28, 2021, ComicLink produced two record sales in grade for Amazing Fantasy #15 in their first day of closings for the current Focused Auction. An Amazing Fantasy #15 CGC 6.0 went for a record $90,000 and a CGC 4.0 went for a record $54,000.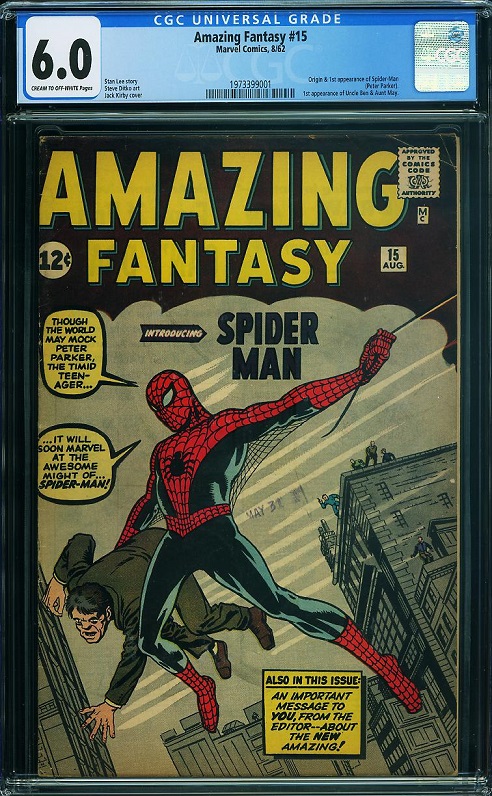 "ComicLink has a long history of setting records in grade for Amazing Fantasy #15, which of course is the first appearance and origin of Spider-Man. Just last month we auctioned a CGC 7.0 example for a record $191,000 and back in February of 2021 we auctioned a CGC 9.0 for a record $566,000. In between, a CGC 8.0 sold on the ComicLink Exchange for $300,000," ComicLink founder and Managing Director Josh Nathanson said. "Each of these were all-time record-setting prices for the certified grades assigned. Over the years we've set records in just about every grade going back to the first 9.4 we placed to auction 2007, when it became the first Silver Age book to sell for over $200,000. The market has certainly changed a lot since then, but the records keep rolling in!"
According to ComicLink, they are looking for another strong example of Amazing Fantasy #15 for the next auction. They are still accepting consignments for their Summer Featured Auction, which starts on August 12. ComicLink can be reached at buysell@comiclink.com or by calling (617) 517-0062 (1 for sales).
In addition to comics and art, ComicLink is also seeking other certified and authenticated collectibles to auction in conjunction with CertifiedLink. Categories include trading cards (sports/non-sports), coins, video games, action figures, sports memorabilia and more.
Sellers interested in consigning can learn more information on the ComicLink Auction Schedule.
Recent Posts
The Marvel Cinematic Universe is a groundbreaking achievement of interconnected films crafted by n …

Heritage just finished a huge auction. When the final lots closed on their Comics & Comic Art …

The Overstreet Comic Book Price Guide #1 Facsimile Edition has sold out from both Diamond Comic Di …