The CGC-certified 8.0 Edgar Church (Mile High) copy of Superman #1 traded hands privately in January 2022 for $5.3 million, CGC has reported. This total makes it the highest grossing comic book sale (auction or private), besting the Amazing Fantasy #15 CGC 9.6 that realized $3.6 million in September 2021.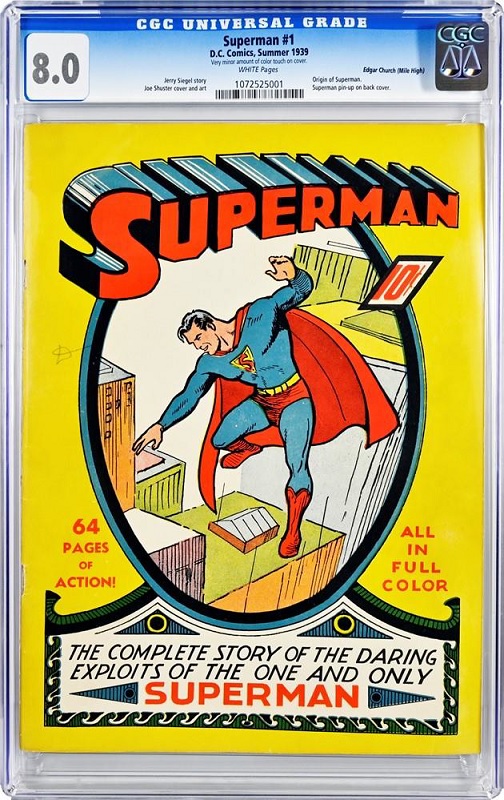 According to CGC, this sale was brokered by Tony Arnold of TonyeTrade Enterprises, which specializes in buying and selling sports cards and comics, and Canadian comic dealer Roy Delic of Vintage Comics. The seller and buyer both chose to remain anonymous.
Superman #1 marked the Man of Steel's first self-titled issue and told his origin story, making it the superhero's second most significant issue. It was published about a year after Superman was introduced in Action Comics #1 (June 1938).
This particular copy is tied for the highest grade certified by CGC. Adding to its mystique, it comes from the famous Edgar Church (Mile High) pedigree. Populated by well-documented high-grade copies, the Edgar Church (Mile High) pedigree is among the most respected in the hobby.
Superman #1 now has two sales that have broken the $1 million plane, as this follows the CGC 7.0 copy that sold at auction for $2.6 million in December 2021. Including Action Comics #1, the Man of Steel now has eight sales over $1 million at auction and in private sales.
Recent Posts
With his horned helmet and obscured facial features, the axe-carrying, armor-clad warrior sits ato …

Iron Man, Thor, Giant Man, and The Wasp square off against Namor the Sub-Mariner and the Incredibl …

Like clay in the hands of a master sculptor is the almost-forgotten Golden Age hero Black Out in t …