Due to bindery issues, The Overstreet Comic Book Price Guide To Lost Universes has been rescheduled to hit comic shops on Wednesday, February 16, 2022. This brand new, full-color volume pictures all of the books listed in addition to offering prices for them.
From the Golden Age to the recent past, The Overstreet Comic Book Price Guide To Lost Universes documents comic book publishers and imprints that have come and gone – and in some cases come again – such as the Archie/MLJ superheroes, original Milestone, original Valiant, the T.H.U.N.D.E.R. Agents, and more.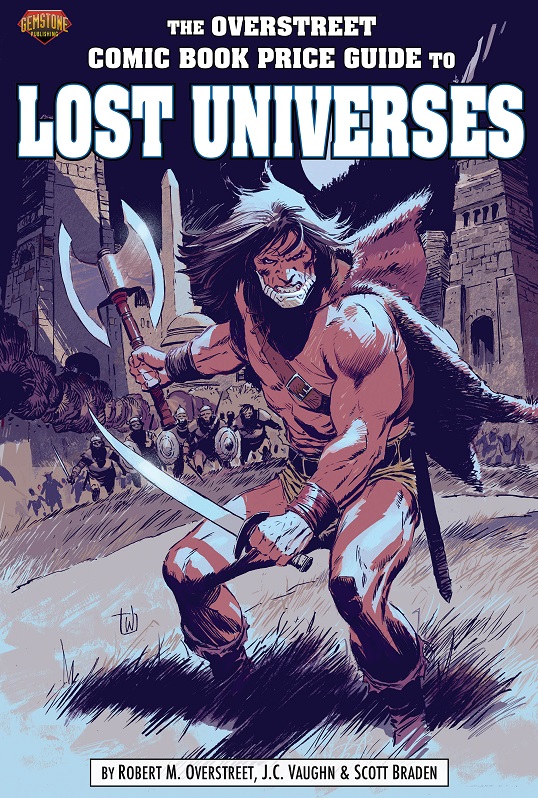 Atlas-Seaboard, Dark Horse's Comics Greatest World, CrossGen, DEFIANT, Future Comics, Topps' Kirbyverse, Marvel's New Universe, Triumphant, and Malibu's Ultraverse all share the spotlight. The book also includes creator interviews, feature articles, and collector profiles, as well as other insights.
"So far, everyone who's seen the book in development has been blown away by this new hybrid price guide/Photo-Journal. While we're disappointed that the book is delayed, we're far from the only publisher affected by this situation. In the spirit of making the best of it, we're happy to extend our advertising reservation deadline to Monday, November 15, 2021. The date to receive ads will be Monday, November 22," said J.C. Vaughn, Vice-President of Publishing for Gemstone Publishing.
With all the energy and record prices in the marketplace, from the Golden Age to the recent past, we've seen a lot of collectors looking for sleepers, hidden gems, or buried treasure. If you're looking to connect with those buyers, this is just the book for you! Comic history is filled with imprints, initiatives, and start-up publishers both small and large that for whatever reason didn't initially stand the test of time. That, though, isn't always the end of things.
Hey, this is comics, right? Not only do the dead come back, they often command premium attention from collectors!
We have some Lost Universes preview pages in PDF form (with the prices redacted, of course), if you'd like to check them out.
The book is offered with a choice of four covers: Ironjaw by Lee Weeks, Mighty Crusaders by Jerry Ordway, and Star Brand by Alex Saviuk and Tom Palmer, all of which are available in hardcover and soft cover, as well as Dark Dominion by J.G. Jones, which is available in a signed, limited hardcover edition. The hardcovers are $35, the soft covers are $25, and the signed, limited hardcover is $75 (limited to 100 copies).
Recent Posts
With his horned helmet and obscured facial features, the axe-carrying, armor-clad warrior sits ato …

Iron Man, Thor, Giant Man, and The Wasp square off against Namor the Sub-Mariner and the Incredibl …

Like clay in the hands of a master sculptor is the almost-forgotten Golden Age hero Black Out in t …