ComicConnect reported over $10,850,000 in sales for Event Auction #49, which closed on March 14-19, 2022. The Marvel Comics #1 CGC 9.2 Pay Copy led all bids with a sale of $2,427,778. For the comic sales of 2022, this total makes it the first Marvel book to sell for over $1 million, the second highest price achieved at auction for a comic, and just the third book to surpass $1 million. Additionally, the sales total is a full 10% higher than the auction house's previous record sum.
Published in 1939, Marvel Comics #1 is one of the most important comics of all time as it marks the beginning of the entire Marvel universe that is so much a part of modern pop culture. The Pay Copy is especially known for the penciled-in notes that reveal that the cover artist, Frank R. Paul, was paid $25 to draw the cover, and that payments were made to writer Bill Everett (for creating the Sub-Mariner storyline) and artist Carl Burgos (for the Human Torch character), among others.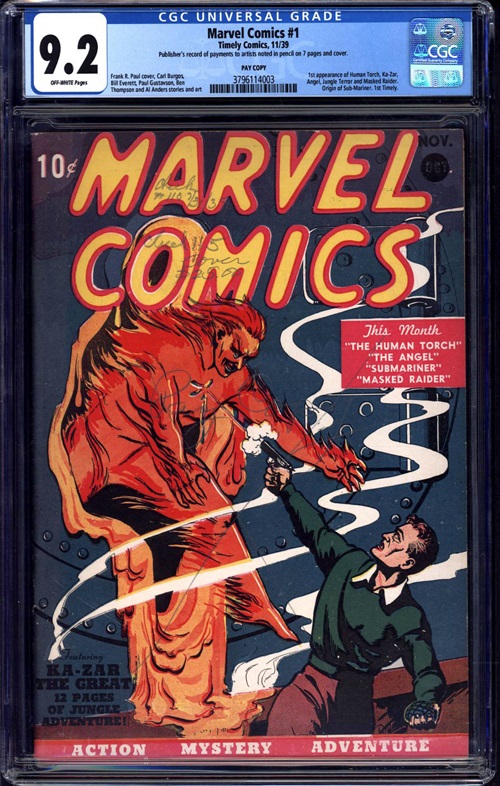 "Structurally and historically, this Marvel Comics #1, the start of the Marvel Universe, is one of the most impressive comic books I've ever had the pleasure to bring to market in my 35+ year career," ComicConnect COO Vincent Zurzolo exclusively told Scoop. "Knowing that at one time it was in the file cabinet at Timely publications, that it was used to make sure legendary creators were paid, gives this comic books a time capsule-like quality. I will never forget the first time I held it in my hands, and hope that one day I will be fortunate enough to do so again."
Some of the other comic sales highlights from Event Auction #49 were:
Amazing Fantasy #15 CGC 8.0 for $520,000
Batman #1 CGC 2.5 for $270,000
Captain America Comics #1 CGC 7.0 for $339,761
Flash Comics #1 CGC 1.5 for $80,420
Incredible Hulk #1 CGC 8.5 for $245,000
Marvel Comics #1 CGC 2.5 for $363,528
Superman #1 CGC 1.0 for $141,450
Whiz Comics #2 (#1) CGC 4.0 for $105,800
X-Men #1 CGC 9.0 Stan Lee Signature for $160,009
X-Men #1 CGC 8.5 for $132,000
On the original art side a Jim Starlin and John Romita cover for Marvel Feature #12 featuring the Thing and Iron Man went for $81,000, Jack Kirby's Destroyer Duck #5 hit $11,500, Murphy Anderson's Justice League of America #80 realized $46,000, Rich Buckler and Joe Sinnott on Avengers #113 grabbed $109,250, Buckler's Astonishing Tales #30 featuring Deathlok went for $46,001, and Buckler's Captain America #166 hammered for $59,810.
Spider-Man artwork, particularly those featuring his black costume continues to be among the hottest art on the market, Rich Buckler's cover to Spectacular Spider-Man #118 realized $34,498, while an interior page from #116 ended at $16,675. Two pages from Amazing Spider-Man #260 featuring the Hobgoblin by Ron Frenz ending in a bidding war, finally landed at $15,140 and $13,225. Also outperforming expectations were pages from the late '80s and '90s by Sal Buscema and Steve Butler with pieces ending in the $2,500-$5,000 range.
Collectors also bid on pulps, trading cards, posters, props, video tapes, and video games, which can be viewed in ComicConnect's Event Auction #49 results. The deadline for Event Auction #50 is coming soon and consignors can get an interest free cash advance up to $5 million. ComicConnect's Director of Consignments Rob Reynolds can be reached at robr@comicconnect.com or (888) 779-7377 for assistance with either buying or selling.
Recent Posts
With his horned helmet and obscured facial features, the axe-carrying, armor-clad warrior sits ato …

Iron Man, Thor, Giant Man, and The Wasp square off against Namor the Sub-Mariner and the Incredibl …

Like clay in the hands of a master sculptor is the almost-forgotten Golden Age hero Black Out in t …