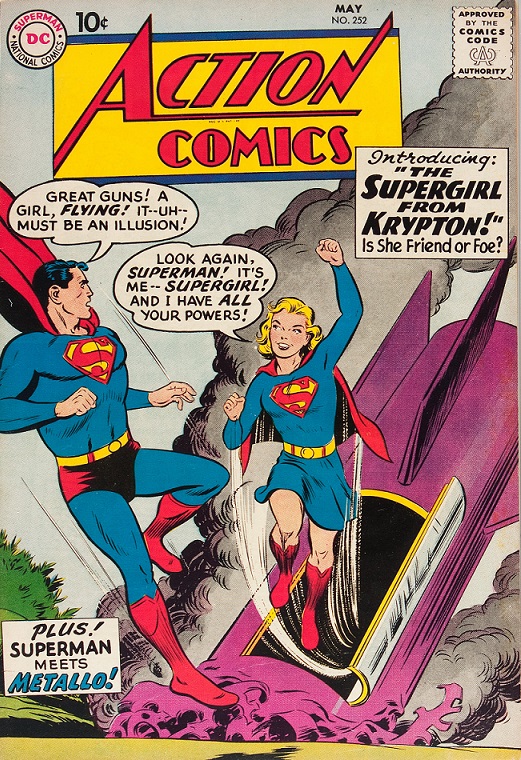 When Kara Zor-El was created, she was primarily considered as a female counterpart to Superman, but has since become much more. Kara is Kal-El's cousin, who, like him, came to Earth from the dying planet of Krypton and assumed a secret identity to fit into society, while also helping when she could. Her earlier stories of needing Superman's guidance on how to be a hero gave way to Supergirl's adventures as a bona fide superheroine, and member of the Justice League, Teen Titans, Supermen of America, Legion of Super-Heroes, and others.
Since the recent announcement of an upcoming Supergirl movie, there has been a spike in interest for her first appearance. While Supergirl's debut could be poised to start setting new records for the book, we take a look back at how the value has grown since she was introduced.
When Action Comics #252 first reached store shelves in May 1959, it carried a cover price of 10¢. In 1970, when Robert M. Overstreet published the first Overstreet Comic Book Price Guide, a Near Mint copy was valued at $1.50. Ten years later, in the Guide #10, the book had taken a huge jump to $105. By 1990's Guide #20, Supergirl's debut more than tripled in value to $360.
When the Guide #30 was published in 2000, it had surpassed the thousand dollar mark at $1,400. Ten years later, in the Guide #40, it soared to $5,200. Supergirl's first appearance has seen significant growth since that point, moving up to $14,000 in the 2015's Guide #45. In 2022, a Near Mint copy of Action Comics #252 was valued at $32,000 in the Guide #52.
Recent Posts
With his horned helmet and obscured facial features, the axe-carrying, armor-clad warrior sits ato …

Iron Man, Thor, Giant Man, and The Wasp square off against Namor the Sub-Mariner and the Incredibl …

Like clay in the hands of a master sculptor is the almost-forgotten Golden Age hero Black Out in t …