Hake's Premier Auction #232 was a resounding success, setting a new house record at $3.6 million. This auction, which closed on June 29-30, 2021, marked their second consecutive auction to set a new house record. Offering some incredibly rare pieces and the most desirable pop culture collectibles, the auction set multiple new records.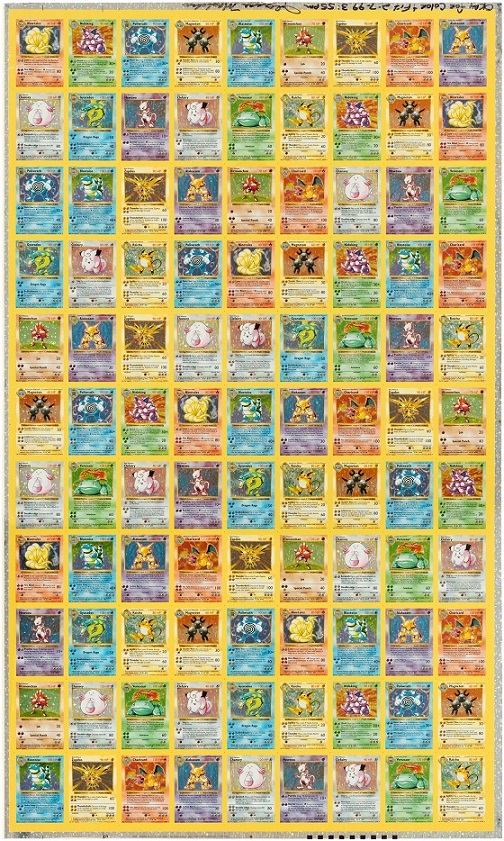 The auction was led by a 1999 Pokémon Shadowless Holographic Uncut Proof Sheet with 99 cards, including 7 Charizard cards, that netted $234,171. The Base Set's first issue print and a few of the following have a slightly different design than the standard Unlimited third issue prints with brighter color, thinner font, the year 1999 appears twice in the copyright notice, and they lack the shadow around the pictures. Known as Shadowless cards, they are rarer compared to the Unlimited cards because of their smaller print run. Pokémon is a fast growing commodity in the collecting world with this sale exceeding its high-end preauction estimate by over $34,000.
---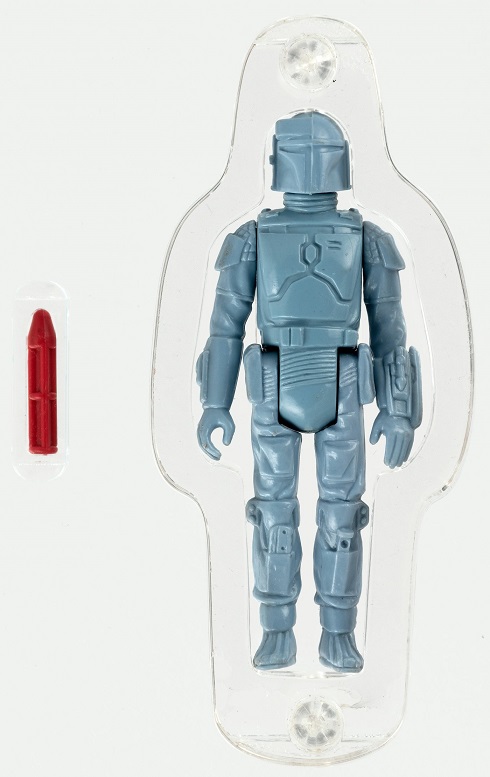 The auction's second spot wasn't far behind. A Boba Fett rocket-firing prototype L-slot AFA 85 NM+, the most valuable Star Wars toy on the market, nabbed $165,200. This unpainted 3-3/4" figure was pulled from Kenner's 1979 toy line because the rocket-firing capability was considered a choking hazard. Among the rarest and most coveted Star Wars action figures, this marks the fifth one that Hake's has sold since March 2018.
---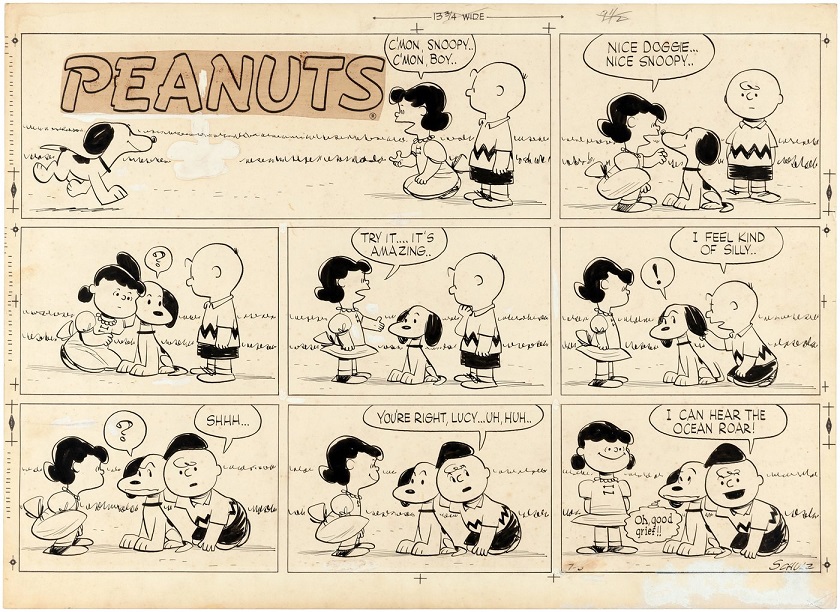 The Peanuts July 3, 1955 Sunday page original art by Charles Schulz featuring Charlie Brown, Lucy Van Pelt, and Snoopy drew $80,476. The 17-1/8" x 23-5/8" artboard features eight panels with pen and ink art. In the strip, Lucy and Charlie Brown take turns listening into Snoopy's ears before Charlie Brown claims that he can "hear the ocean roar" before Snoopy thinks "Oh, good grief." This piece is notable for the fact that all three characters appears in all eight panels. Schulz signed and dated the last panel.
---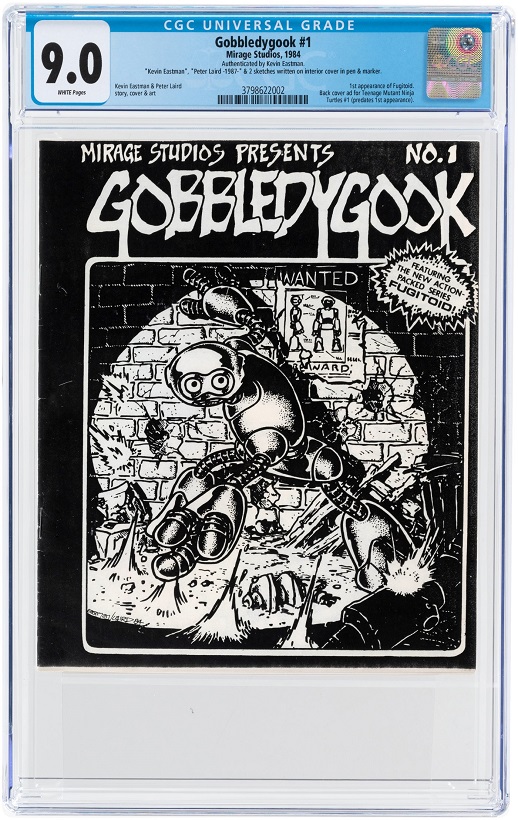 Leading the comic book section was a copy of Gobbledygook #1 CGC 9.0 signed and sketched by Kevin Eastman and Peter Laird, which achieved $71,390. Containing the first appearance of the Fugitoid, it has a back cover ad for Teenage Mutant Ninja Turtles #1, predating their first appearance. The interior cover features signatures and Turtles sketches by the co-creators, which were authenticated by Eastman.
---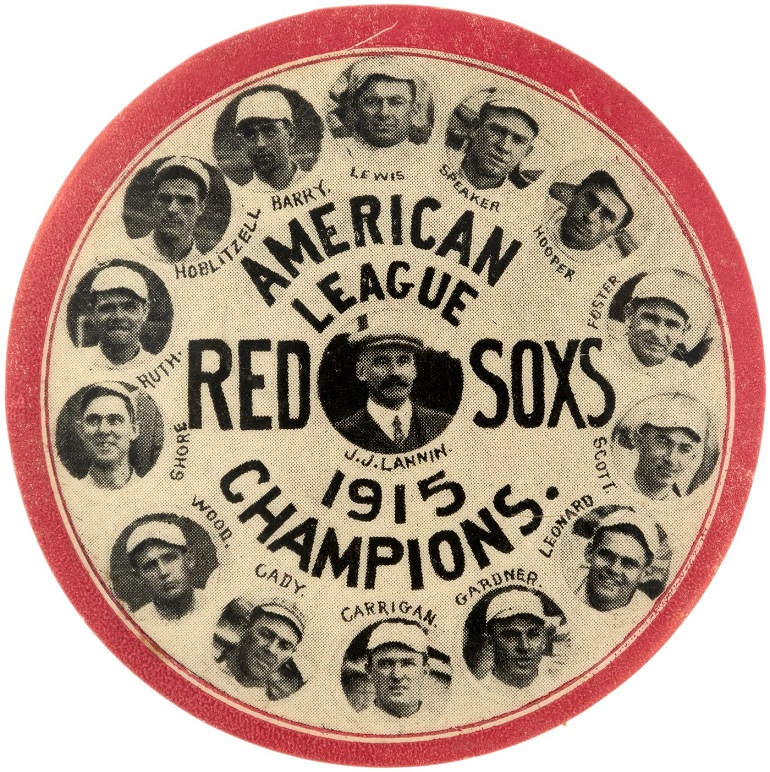 A Babe Ruth "1915 American League Champions" Boston Red Sox rare button set a world record for any button when it achieved $70,092. The 2-1/4" button was significantly larger than most baseball buttons of the day and is one of the very few Ruth images dating to his Major League rookie season. The text of "American League Champions" rather than "World Champions" confirms that it was in production before the 1915 World Series. This is one of only two examples of this button.
---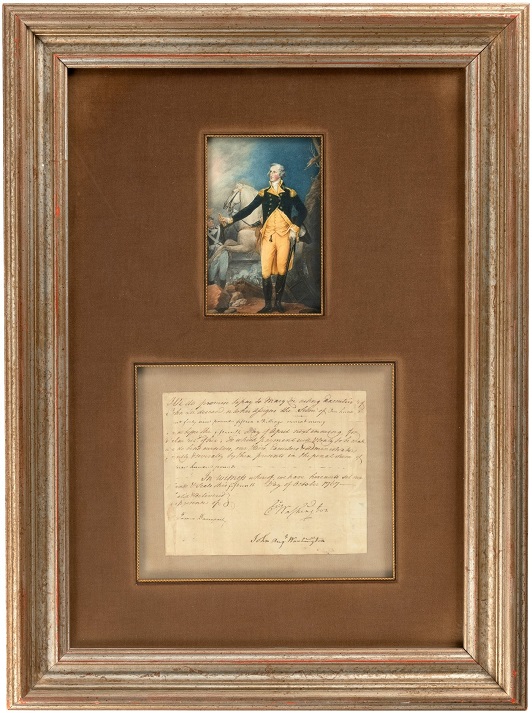 A George Washington signed slave sale promissory note for his personal valet William "Billy" Lee realized $64,900. The financial document is signed by Washington and his brother John Augustine Washington and is housed in a custom frame. Details on William "Billy" Lee's life can be found in Hake's description for this item.
---
Another Pokémon high seller was the 1999 Base Set First Edition set of 102 CGC-graded cards that hammered for $41,057. Predominately in higher grade, the complete set includes 16 cards at CGC 9, 40 at CGC 8.5, 35 at CGC 8, 9 at CGC 7.5, 1 at CGC 7, and 1 at CGC 6.5. Some of the standouts include Alakazam CGC 8.5, Blastoise CGC 9, Chansey CGC 9, Charizard CGC 9, and Clefairy CGC 8.5. The set includes 16 Holo cards.
The rare Empire Strikes Back Action Display Stand AFA 75 Q-Ex+/NM containing six action figures bested the preauction estimate of $20,000 when it closed at $36,301. The display features Luke Skywalker (Bespin), Princess Leia (Bespin), Lando Calrissian, Bossk, Imperial Stormtrooper (Hoth), and FX-7 (medical droid). Made for Kenner's 1980 line, each figure is still sealed in the original Hong Kong baggies.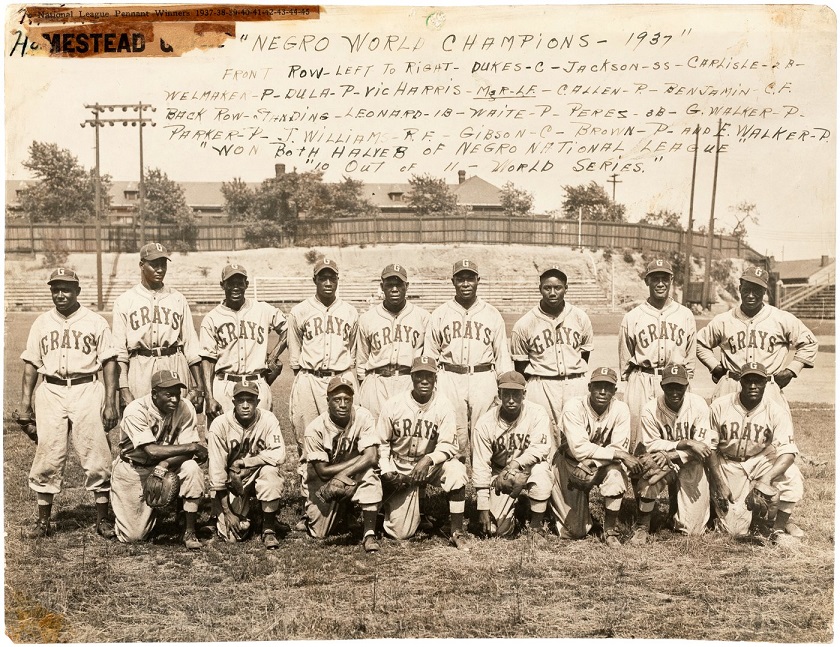 A 1937 Homestead Grays team oversize photo with Hall of Famers Josh Gibson, Buck Leonard, and Raymond Brown clinched $35,046, besting the preauction estimate of $20,000. This is one of only two known photos of the team at the very beginning of their dynasty, which would continue until the mid-1940s.
A 1937 Ciudad Trujillo baseball team photo with Hall of Famers Satchel Paige, Josh Gibson, and Cool Papa Bell achieved $29,500. The ball club was organized by dictator Rafael Trujillo who raided the Negro League for players, but it only lasted one season. This is one of just two full team photos of the ball club.
These examples weren't the only baseball photos that achieved five-figure sales. A 1932 Harrison Studios Pittsburgh Crawfords team photo with Hall of Famers Satchel Paige, Josh Gibson, and Oscar Charleston hammered for $28,513. A 1926 St. Louis Stars real photo postcard with Hall of Famers Cool Papa Bell, Willie Wells, and Mule Suttles SGC Authentic realized $21,240. A 1915 Chicago American Giants real photo postcard with Hall of Famers Rube Foster, Pop Lloyd, and Pete Hill SGC 50 VG/Ex 4 brought $19,729. A 1918 Chicago American Giants team cabinet photo with Hall of Famers Rube Foster and Pete Hill reached $15,576.
Among the key comic sales was a Teenage Mutant Ninja Turtles #1 CGC 9.2 first printing for $32,450. Published by Mirage Studios, this issue houses the origin and first appearance of the Teenage Mutant Ninja Turtles, Splinter, and Shredder. Featuring story and art by Eastman and Laird with a wraparound cover by Eastman, it is among the most sought after Cooper Age keys.
A trio of Mickey Mouse daily strips featuring Disney's beloved mascot were top producers in the auction. A strip from February 25, 1931 by Earl Duvall from the "Mickey Mouse vs. Kat Nipp" storyline closed at $29,500. The February 27, 1931 strip by Duvall from the "Mickey Mouse, Boxing Champion" story and an early 1930 strip by Floyd Gottfredson and Hardie Gramatky from the "Mr. Slicker and the Egg Robbers" storyline each sold for $28,556. Both of the latter strips sold for well beyond their $20,000 preauction estimate.
"We are beyond thrilled with the results of this auction. Once again, our consignors came through with top tier material, bringing a mixture of true rarities and the most wanted collectibles to auction," Hake's President Alex Winter said. "There's something for every collector in Hake's premier auctions from Revolutionary War era collectors to trading card game enthusiasts. And, results like $234,171 for the Pokémon uncut proof sheet, $165,200 for a Boba Fett rocket-firing prototype L-slot, and $70,092 for a Babe Ruth button proved the strength of the collectibles market."
All items include the 18% buyer's premium. Lists of the top selling items in Part I and Part II of the auction are available on Hake's website.
Recent Posts
On Thursday, June 16, 2022, Heritage opened their Comics & Comic Art Signature Auction with a …

During the Silver Age of comics, Marvel introduced many of their most influential and inspiring ch …

The CGC-certified 8.0 Edgar Church (Mile High) copy of Superman #1 traded hands privately in Janua …