Hake's Auctions has just completed another blockbuster auction. On March 15-16, 2022, Hake's closed their first premier auction of the year with a total of $3.2 million in sales. The two-part auction, designated by historical material in Part I and pop culture items in Part II, was dominated by high prices and new records for Star Wars collectibles, political campaign material, and original comic art.
As expected, the auction's top spot went to the Boba Fett rocket-firing prototype (J-slot, Version 2) AFA 50 that flew to $204,435 and set a new world record. The Boba Fett prototype was originally displayed at the New York Toy Fair in 1979, but never went into mass production due to concerns surrounding the toy's rocket-firing capabilities. This has left a small number in the collecting community and is wanted by the most serious collectors. Hake's also held the previous record for the J-slot prototype when they sold one graded AFA 85+ for $185,850 in November 2019.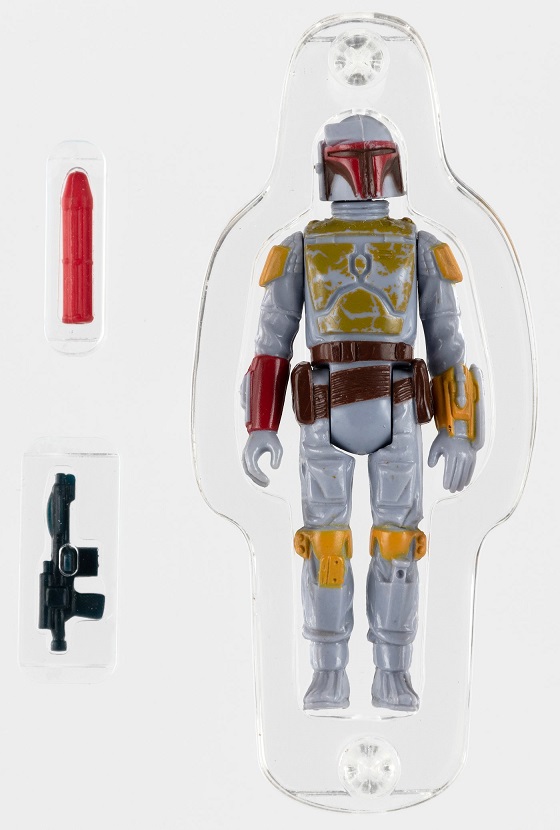 Not far behind the Boba Fett prototype was the Cox and Roosevelt 1-1/4" jugate button, likened to Action Comics #1 and the Honus Wagner T206, that sold for $185,850. All varieties of the Cox and Roosevelt jugates are on political button collectors' wish lists, but this size is even scarcer in the market than the smaller 7/8" and 5/8" varieties. In fact, this variety is one of only three known and has not been sold at auction since 1981. This sale set a new world record for a pinback sale, eclipsing the Babe Ruth "1915 American League Champions" Boston Red Sox rare button record of $70,092 that Hake's set in July 2021.
Taking the next spot among the campaign material was the Harding and Coolidge 1-1/4" jugate button that achieved $51,920 – five times the high-end estimate of $10,000. This rare piece is unlisted in Hake and was previously in the Joe Brown Collection. According to Hake's this hasn't been offered in nearly 20 years.
Ed Hannigan's Incredible Hulk #283 original cover that was inked by Al Milgrom brought $33,314, well beyond the $20,000 estimate. The action heavy cover on 10-7/8" x 17" artboard shows Hulk leading the Avengers, including the Wasp, Iron Man, Thor, Captain America, Hawkeye, Captain Marvel (Monica Rambeau), and She-Hulk. This issue was published in May 1983.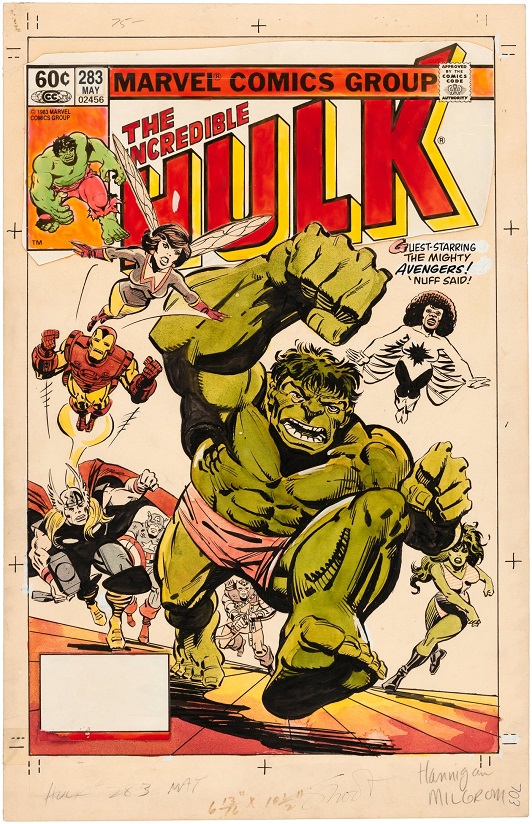 The Empire Strikes Back – Three Pack Sears exclusive AFA 75 was the second highest Star Wars sale, which more than doubled its preauction estimate of $20,000 when it hammered for $42,834. This Canadian Kenner set was made in '81 and includes a Stormtrooper (Hoth Battle Gear/Snowtrooper), AT-AT Driver, and Cloud Car Pilot. It is one of two combinations that were sold by Sears and the first of either that Hake's has offered.
The Jawa 12-back-A (vinyl cape) AFA 75 toppled its $20,000 estimate to realize $36,285. The 2-1/4" tall figure comes with the initial vinyl cape before it was repackaged with a cloth one. This example is on an unpunched card.
Continuing the trend of breaking estimates, the Boba Fett 21-back-B AFA 85 action figure sold for $29,983, beating the $20,000 estimate. This 3-3/4" figure, made for Kenner's 1979 toy line, is on a punched card.
Some of the other Star Wars high sellers were the Luke Skywalker (blonde hair) 12-back-B AFA 85 that doubled its estimate to sell for $21,830, the Early Bird Certificate Package AFA 85+ went for $20,905, and the Droids – Boba Fett AFA 80 nabbed $20,768.
Boris Vallejo's The Green Princess original art scored $32,448, besting its $20,000 estimate. The double-matted oil painting depicts a Tarzan-like hero brandishing a cutlass and length of chain alongside the Green Princess who is defending a nude woman from a group of hooded men.
Two more pieces of original art landed in the top sellers list for Part II. The Famous Funnies #217 original cover by Mike Roy featuring Buck Rogers crossed its $20,000 estimate to hammer for $26,710. The Metamorpho #7 original cover by Sal Trapani realized $25,129, also beating the $20,000 estimate.
The Bryan and Stevenson Eclipsing McKinley and Roosevelt 1900 jugate button Hake #38 realized $32,450. This 1-1/2" button features the Democratic ticket set against a silver moon eclipsing a golden sun with the GOP standard bearers. It is a full color design, unlike the majority that are sepia toned.
The Roosevelt "Equality" Buffalo Soldier 1904 campaign button reached beyond its $20,000 estimate when it cleared $28,556. The 1-1/2" button shows Roosevelt leading a group of black troops up "San Juan Hill July 2, '98." This is one of only four known specimens of this button and one of the most important historical buttons that Hake's has offered in their 55 years.
One of the auction's extraordinary results was the Lincoln "Florida" 31-star American flag from the 1860 republican convention. This piece was estimated at $2,000, but competitive bidding drove it to $25,370. This 11" x 14" glazed cotton flag was among those made for the convention featuring the names of the states that were represented.
The top sellers from Part I also included the Davis and Bryan high contrast 1-1/4" real photo jugate button Hake #2002 that brought $21,232; the circa 1922 Romeo and Julieta Cigars Jose Mendez CSG 2.5 from the Richard Merkin Collection that reached $19,470; and the John W. Davis "Doom" Teapot Dome scandal litho button Hake #31 that sold for $10,773 – five times its $2,000 preauction estimate.
Two items that doubled their $5,000 preauction estimates were the "Western Federation of Miners" Haywood, Moyer, and Pettibone 1906 "I.W.W." ribbon badge that grabbed $10,208 and the "For Vice President Gov. Calvin Coolidge" rare 1920 campaign button hit $10,124.
All totals include the 18% buyer's premium. The top results in Part I and Part II of the auction can be viewed on Hake's website.
Recent Posts
With his horned helmet and obscured facial features, the axe-carrying, armor-clad warrior sits ato …

Iron Man, Thor, Giant Man, and The Wasp square off against Namor the Sub-Mariner and the Incredibl …

Like clay in the hands of a master sculptor is the almost-forgotten Golden Age hero Black Out in t …