With their expansive mix of historical and pop culture collectibles, Hake's auctions attract serious collectors who fervently compete for incredible and often rare pieces. This was once again the case for Auction #233, which rose to a total of $3.3 million when it closed on November 2-3, 2021. This auction gave them a yearly total of over $10 million, setting a new house record.
The Captain America shield hero prop used by Chris Evans in Avengers: Endgame was the undisputed star of the show when it soared to $259,539. The shield was constructed by Marvel Studios Prop Master Russell Bobbitt. It is 24" in diameter, approximately 3" deep, and is constructed of high density foam, with a spun aluminum exterior and hand-crafted leather arm and hand straps on the interior. Between 30 and 40 shields were produced for Endgame. This example was used for close-up shots in Evans' hand as it shows the most detail and its spun aluminum surface exhibits a mesmerizing metallic sheen.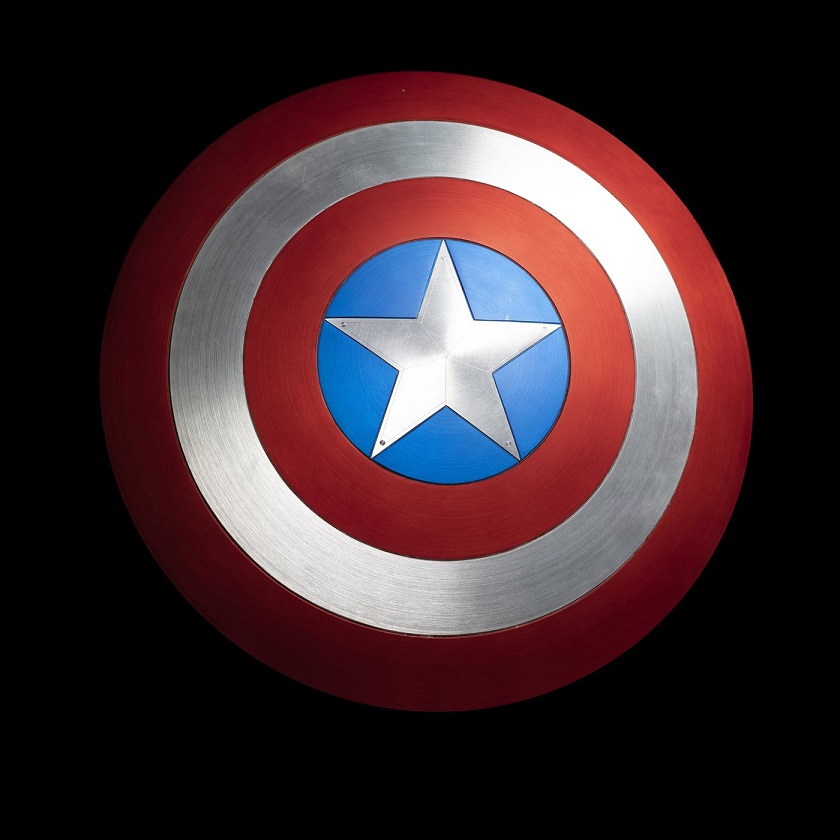 "The impact of the Marvel Cinematic Universe cannot be overstated in modern pop culture, and Captain America is at its epicenter. He may be rooted in American patriotism, but his heroism and bravery resonate throughout the world, and that is why we knew this hero prop used by Chris Evans would lead the auction, just like Cap leads the Avengers," Hake's President Alex Winter said. "Because it was used for closeups in Evans' hands, it is simply gorgeous and will make a stunning showpiece in the winning bidder's collection. Our office is buzzing with excitement after this sale and we are ready to offer more film and TV props of this caliber."
The 1999 Pokémon Unlimited Base Set Holographic Uncut Proof Sheet took the auction's second spot when it caught $45,559. The 26-1/2" x 39-1/2" uncut sheet has 100 cards (15 Holographic) featuring art by Keiji Kinebuchi, Ken Sugimori, and Mitsuhiro Arita. The holographic pattern seen on this sheet was changed before production and was not featured on published cards. While the cards on this sheet are Shadowless, the layout matches the few Unlimited uncut sheets that Hake's has seen.
Mickey Mouse comic strips continue to be high sellers with the 1931 daily strip original art by Floyd Gottfredson and Earl Duvall hammering for $45,430. The February 20, 1931 daily strip features Gottfredson's pencils with Duvall's inks on a 7" x 25-3/8" artboard. From the "Mickey Mouse vs. Kat Nipp" storyline, Mickey appears in all five panels to send a pack of dogs after Kat Nipp.
Star Wars material was led by a pair of desirable pieces. The Millennium Falcon Spaceship AFA 80+ NM from 1979 flew to $42,834, exceeding the $35,000 estimate. This large toy is detailed with landing gear and entrance ramp, opening cockpit, secret hiding compartment, revolving radar dish, and laser gun and seats. Still in the original box, it is a scarcely found high grade factory sealed example.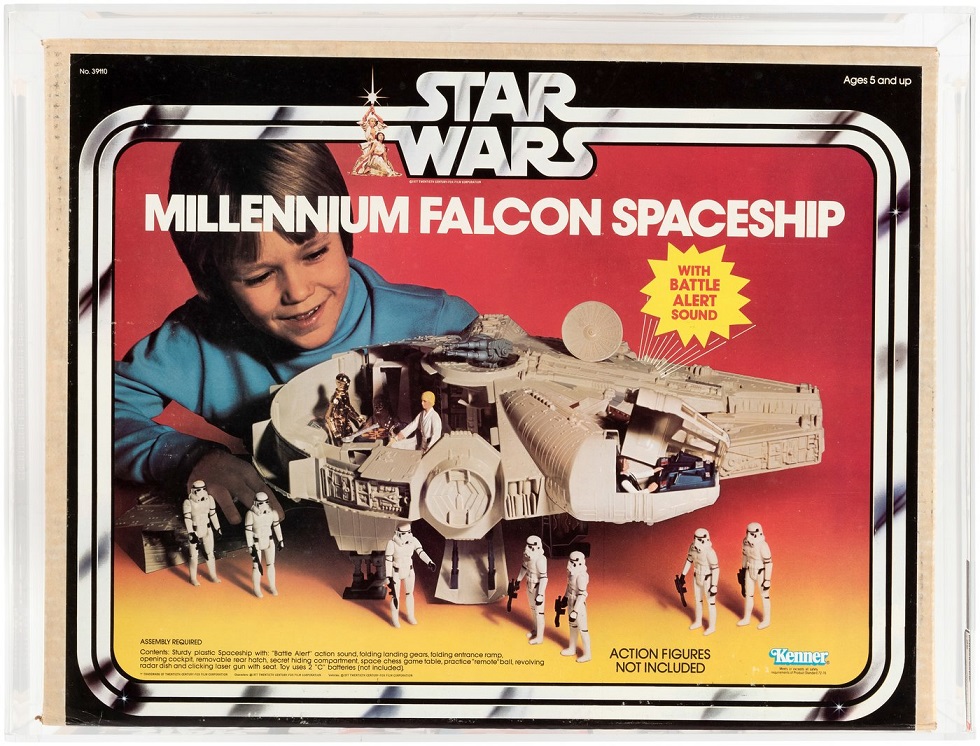 Not to be out down by Han Solo's ship, the Luke Skywalker 12-back-A AFA 80 NM (double-telescoping, SKU on footer) also brought $42,834. This 3-3/4" figure comes with the double-telescoping lightsaber that features a second extendable section. Made for Kenner's 1978 toy line, it is on an unpunched card.
Hake's sold two copies of Fantastic Four #1 with the CGC 6.0 going for $37,269 and 5.0 hitting $28,844. This issue houses the origin and first appearance of Marvel's first superhero team, the Fantastic Four, and the origin and first appearances of Mole Man. Lee provided the story for this major key and Kirby did the cover and art.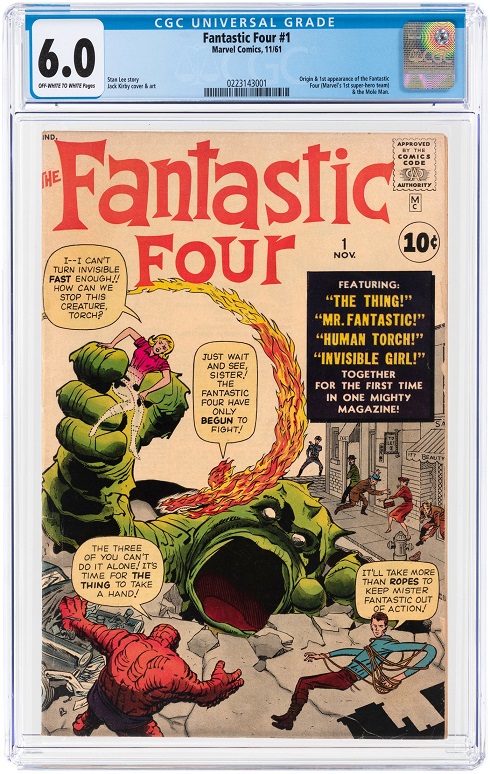 Iron Man/Tony Stark's first appearance and origin in Tales of Suspense #39 also had two entries in the auction with the CGC 7.0 grabbing $35,695 and the 5.5 achieving $20,475. With Lee and Larry Lieber stories, it has a cover by Kirby and Don Heck, and additional art by Ditko and Gene Colan.
Spider-Man/Peter Parker's debut in Amazing Fantasy #15 CGC 2.0 Signature Series Stan Lee realized $29,854. Lee's signature, which he did on July 23, 2011, pops in the center of the front cover in black pen over the tan art. The biggest key of the Silver Age, it was written by Lee with a cover by Jack Kirby and art by Steve Ditko.
Two copies of X-Men #1 with the origins and first appearances of X-Men team members Professor X, Cyclops, Marvel Girl, Iceman, Angel, and Beast, and longtime villain Magneto, were in the auction. The CGC 6.5 copy sold for $27,258 while the 6.0 went just a bit higher to $28,568.
The copy of Tales of Terror Annual #3 CGC 9.6, featuring a striking cover by Al Feldstein, grabbed $27,258. The 128-page issue pulls readers in with a cover of a man being tortured by the Crypt-Keeper, the Old Witch, and the Vault-Keeper who wields a blazing hot EC branding iron. The interior art was provided by Graham Ingels, Jack Kamen, and Wally Wood.
"With the conclusion of Auction #233, we have now set a new house record for the year with $10 million in sales," Winter said. "Our aim is always to bring our bidders exciting material, whether it's a childhood toy lovingly remembered or a high value rarity they've been yearning to own. We've already consigned some amazing collectibles for premier auctions in 2022. Stay tuned!"
All prices include the 18% buyer's premium.
To read the results from Part I, including the historical and baseball material, jump to our auction coverage.
Recent Posts
With his horned helmet and obscured facial features, the axe-carrying, armor-clad warrior sits ato …

Iron Man, Thor, Giant Man, and The Wasp square off against Namor the Sub-Mariner and the Incredibl …

Like clay in the hands of a master sculptor is the almost-forgotten Golden Age hero Black Out in t …