The friendly neighborhood Spider-Man's debut appearance has just set a new world record for most valuable comic. Amazing Fantasy #15 CGC 9.6 – the highest known grade – sold for $3.6 million at Heritage in their Comics & Comic Art Signature Auction on September 9, 2021.
"What better book to break the record than the debut of Marvel's most beloved character, Spider-Man?" Heritage Vice President Lon Allen said. "Amazing Fantasy #15 is the Action Comics #1 or Detective Comics #27 of the next generation. I'm honored to have been a part of the most important comic book sale to date. In my 20 years at Heritage, to bring the most expensive book to market has been the pinnacle of my career."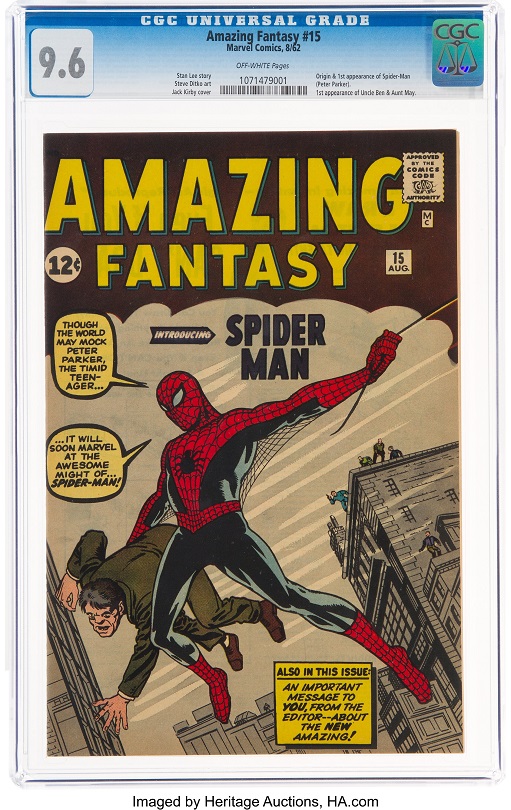 This sale topped the previous world record set by Superman. The Man of Steel's first appearance in Action Comics #1 CGC 8.5 sold for $3.25 million in April 2021 in a private sale brokered by ComicConnect.
Prior to this sale, the highest price paid for a copy of Spider-Man/Peter Parker's first appearance was a CGC 9.6 that realized $1.1 million in 2011. Heritage's previous top sale for Amazing Fantasy #15 was a CGC 9.4 that reached $795,000 in March 2020.
"The sale of this CGC-certified 9.6 copy of Amazing Fantasy #15 signifies a lot of strength in the marketplace, the enormous demand for rare, high-grade key issues, and the continuing appeal of Spider-Man. It is, if you'll forgive the choice of adjective, amazing," said Robert M. Overstreet, author and Publisher of The Overstreet Comic Book Price Guide.
This copy of Spidey's debut is among the 161 books in this auction from The #1 Amazing Spider-Man Registry Set Collection. Another featured book is Amazing Spider-Man #1 CGC 9.4 that hammered for $264,000. That book introduces J. Jonah Jameson and Chameleon, has the first Fantastic Four crossover, retells Spider-Man's origin, and is his first titular comic. This auction has also seen the Steve Ditko Amazing Spider-Man #18 page 12 original art featuring Spidey and Sandman draw $156,000.
Heritage's Comics & Comic Art Signature Auction started closing on September 8 and continues through September 12.
Recent Posts
The Marvel Cinematic Universe is a groundbreaking achievement of interconnected films crafted by n …

Heritage just finished a huge auction. When the final lots closed on their Comics & Comic Art …

The Overstreet Comic Book Price Guide #1 Facsimile Edition has sold out from both Diamond Comic Di …