Across the board, collectibles are setting new records on a consistent basis, particularly items from the highest echelons of their respective categories. The record for highest price achieved for a single comic book just joined the recent headline makers.
Action Comics #1 CGC 8.5, which introduces Superman, just sold for a new world record $3,250,000 to a private collector. The sale was brokered by ComicConnect, the auction house that has brokered the most sales of this comic, which is the undisputed most valuable comic book in existence. ComicConnect brokered the first comic sale that surpassed the $1 million mark, followed by seven more over that milestone. This sale will earn them their sixth Guinness World Record.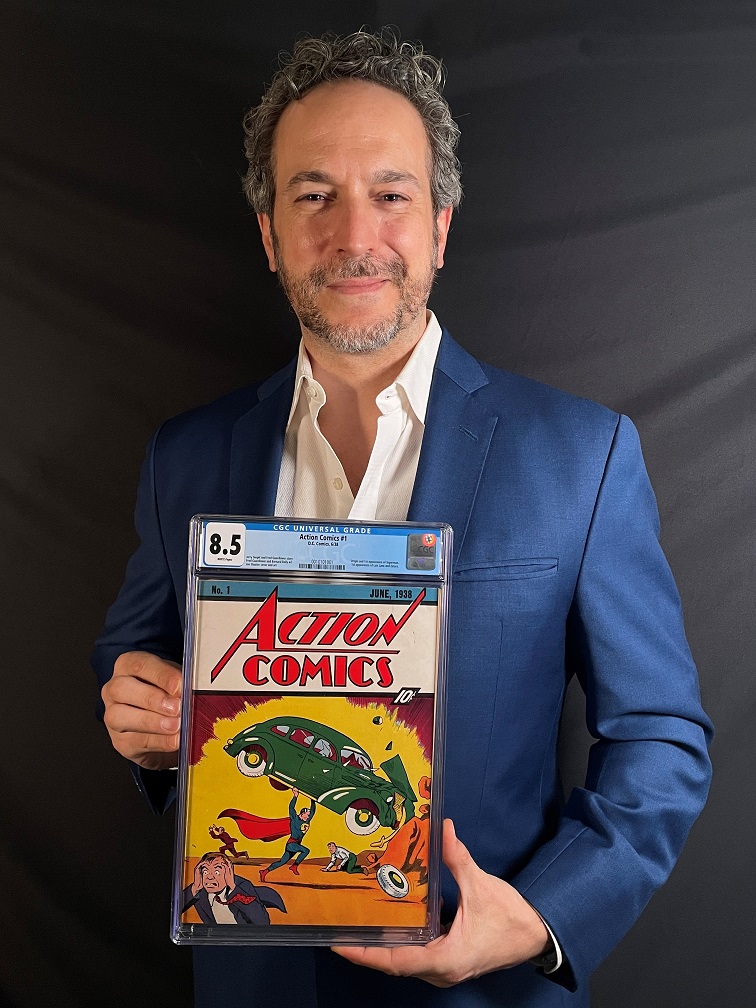 "This sale is both a reflection of the current pricing trends and a glimpse into the robust future that lies ahead for the vintage comic market. In just a few short years, I know sales like this will be commonplace, but for now, we're celebrating a new world record," Vincent Zurzolo, ComicConnect COO and co-founder exclusively told Scoop. "If you have a collection, I'd like to hear from you. My team is accepting consignments in every collectible category through April 22 for our next big auction."
ComicConnect previously brokered the same CGC 8.5 copy of Action Comics #1 for a world record $1,500,000 in 2010, then again in 2017 for $1,750,000, for $2,052,000 in 2018, and now $3,250,000 in 2021. The comic is the second-highest graded with the top two (CGC 9.0) copies locked away in the Impossible Collection, and ComicConnect handled the sale of both top copies with the last record sale for most expensive comic clocking in at $3,207,852 in 2014.
As Action Comics #1 depicts the Man of Steel's origin story, this particular copy has a vivid origin as well. For over 50 years, the comic was tucked away in a stack of old 1930s movie magazines, preserving it against the ravages of time, securing the comic as a world class piece. In three short years, the seller realized a return of over $1,000,000 in profit while the new buyer added his second major comic purchase to his portfolio, which consists of mainly non-sports cards, another hot collectible.
"With collectible values trending upwards and cryptocurrencies minting new millionaires daily, I fully expect and plan on comic prices to continue to rise," Zurzolo added. "I believe that comics remain the most compelling investment with values that are immature in comparison to other categories."
He pointed to a 2009 Mike Trout rookie baseball card that recently sold for $3.93 million. "The card has little of the historic, nostalgic, and artistic value of the 1938 Action Comics #1. This is an 83-year-old comic book in near-pristine condition that launched the entire superhero genre that is such a huge part of our popular culture. If not for this comic and the introduction of Superman, comic books would have likely died off many decades ago."
"And I'm always looking for more: more comics, more original art, more everything," Zurzolo added. "Call or email me today."
He can be reached toll free at (888) 779-7377 or email robr@comicconnect.com for assistance with collections.
ComicConnect's current auction ends April 12-16, 2021.
Recent Posts
On Thursday, June 16, 2022, Heritage opened their Comics & Comic Art Signature Auction with a …

During the Silver Age of comics, Marvel introduced many of their most influential and inspiring ch …

The CGC-certified 8.0 Edgar Church (Mile High) copy of Superman #1 traded hands privately in Janua …