Artist Aaron Lopresti has penciled, inked, and colored a new EC Horror Hosts cover for The Overstreet Comic Book Price Guide #52. His piece not only puts EC's iconic Old Witch, Vault-Keeper, and Crypt-Keeper center stage, it also celebrates the 100th birthday of EC founder William M. Gaines. Due in comic shops on July 20, 2022, this edition will be featured in the April PREVIEWS from Diamond Comic Distributors.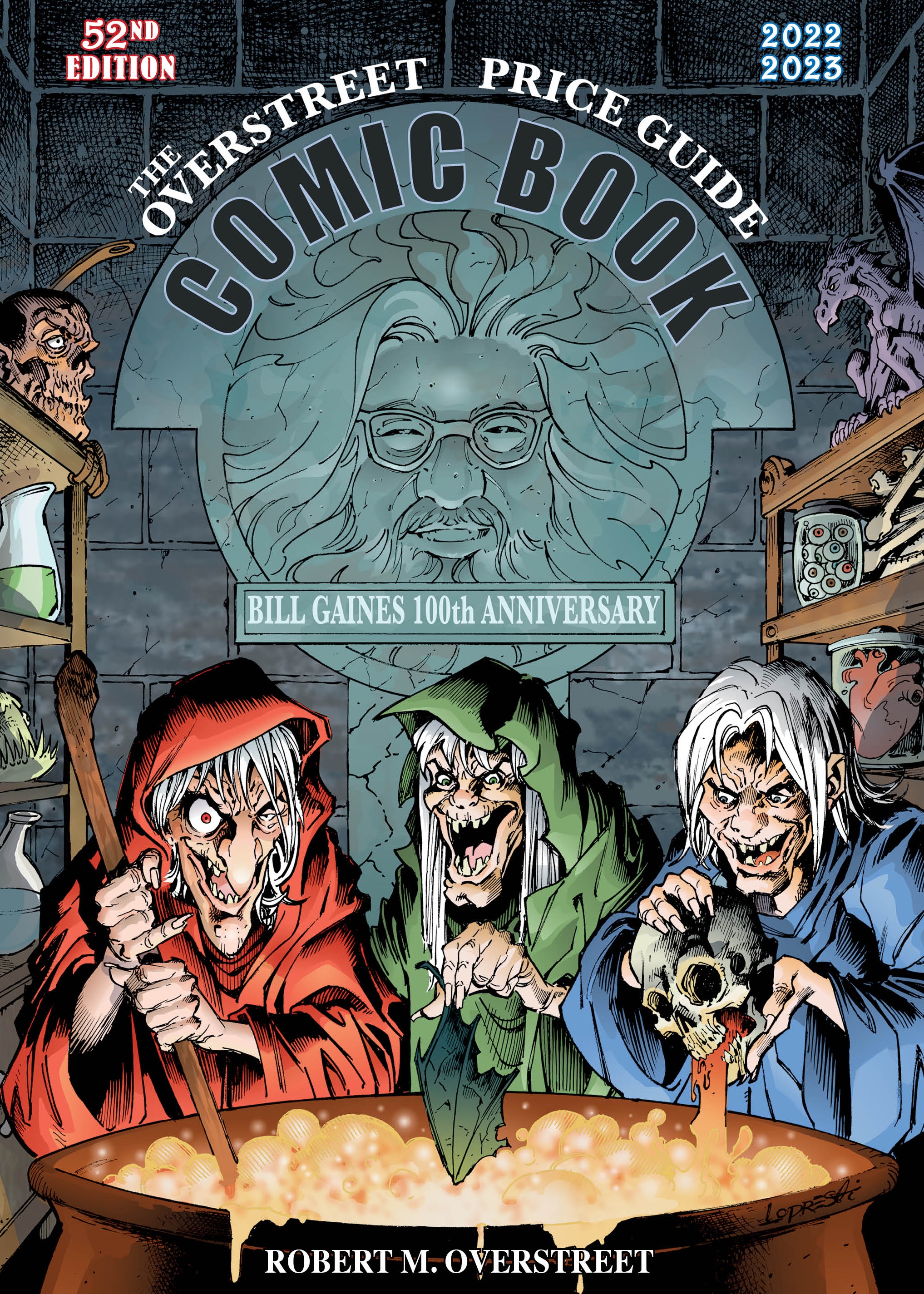 This edition of The Overstreet Comic Book Price Guide #52 will be available in both hardcover ($44.95) and soft cover ($34.95) formats. Both EC Horror Hosts versions of this approximately 1,120-page book will be exclusive to comic shops.
Lopresti made his comic book debut in 1993 in Sludge, from Malibu's Ultraverse line. Since then, his extensive credits cross Marvel, DC, and other publishers. They include X-Men, Detective Comics, Captain Marvel, Wonder Woman, Incredible Hulk, Amazing Spider-Man, Ms. Marvel, Legends of the Dark Knight, Metamorpho, Mystic, Justice League International, and Justice League: Generation Lost. In the creator-owned arena he created Garbage Man (originally for DC Comics) and Power Cubed (at Dark Horse). He has now taken to crowdfunding, including his latest project, Wraith of God.
"I have been a comic collector since I first discovered The Overstreet Comic Book Price Guide back in 1976 and to be able to combine my professional art career with my collecting passion is a dream come true. Combine that with the fact I was able to do a tribute to Bill Gaines and EC Comics, both of whom I originally discovered through the Guide, makes this a real bucket list accomplishment," Lopresti said.
An Overstreet fan since Will Eisner's classic Spirit cover on CBPG #6, he joins a pantheon of cover artists that includes Joe Kubert, George Pérez, Carl Barks, Todd McFarlane, Murphy Anderson, Mark Chiarello, Wally Wood, Darwyn Cooke, Alex Schomburg, Amanda Conner, C.C. Beck, Walter Simonson, Joe Simon, Adam Hughes, Bill Ward, J. Scott Campbell, Jim Steranko, Ryan Sook, Al Williamson, J.G. Jones, Jerry Robinson, and Butch Guice, among others.
"I've been a fan of Aaron's work since his days on Sludge in the Ultraverse, and I've watched his skills continue to develop across an incredible variety of titles and genres. The fact that he's an Overstreet collector and an EC fan made this the perfect cover for him to take on, and boy, did he deliver or what?" said J.C. Vaughn, Vice-President of Publishing for Gemstone Publishing.
The Bible of serious comic book collectors, dealers, and historians since it was first published in 1970, The Overstreet Comic Book Price Guide is released each July by Gemstone Publishing. Compiled by founder Robert M. Overstreet with contributions from an extensive roster of Overstreet Advisors, the Guide offers insight into the complex and exciting comic book market. In addition to new prices, this edition includes new feature articles, new additions to the Overstreet Hall of Fame, and dozens of new market reports.
When it arrives, CBPG #52 will join a strong line-up of books due out this year from Gemstone Publishing. The Overstreet Comic Book Price Guide To Lost Universes #1, a brand new price guide/Photo-Journal hybrid now on sale. The Guide will also be preceded by The Overstreet Guide To Collecting Comics – Free Comic Book Day 2022 Edition, a special 48-page comic about collecting comics, which will arrive on Saturday, May 7, Free Comic Book Day. Following the Guide, due out October 26, will be the full book-length second edition of The Overstreet Guide To Collecting Comics, a prose/comics hybrid showcasing many different aspects of collecting.
"Aaron Lopresti's EC Horror Hosts joins Butch Guice's Winter Soldier and J.G. Jones' Black Terror as our covers on the standard editions of the Guide. We have The Black Hood by Rick Burchett on The Big, Big Overstreet Comic Book Price Guide, as well," Vaughn said. "You can't go wrong with one of these covers."
Recent Posts
With his horned helmet and obscured facial features, the axe-carrying, armor-clad warrior sits ato …

Iron Man, Thor, Giant Man, and The Wasp square off against Namor the Sub-Mariner and the Incredibl …

Like clay in the hands of a master sculptor is the almost-forgotten Golden Age hero Black Out in t …